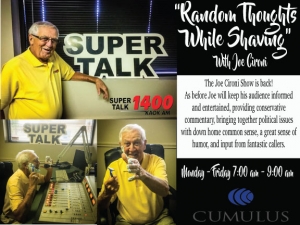 HE'S BACK! That's right Joe Cironi is back with his hit show "Random Thoughts While Shaving!" Check him out weekday mornings from 7 am – 9 am!
Joe is a Native of Paterson, New Jersey. He graduated from St. Michael's College with a Bachelor's in Political Science in 1962.
He is a Commissioned Officer of the United States Marine Corps : Captain
Joe was the President & CEO of the Chamber of Commerce for 38 years!
         1986-2004 The Chamber Southwest Louisiana
         Designated: Certified Chamber Executive 1983
Joe started his Radio Talk Show: "Random Thoughts While Shaving" KAOK AM 2005-2013
 Don't forget he is witty, charming, and oh so handsome!
Mike Smith is the talented producer of "Random Thoughts while Shaving"
Hello , I am a Northner by definition , raised in Kansas City ..on the Missouri side of the tracks . I Love Lake Charles
and Im bringing the Stock Pot : & I know Joe will bring the spoon to Stir things up .